---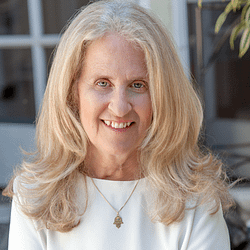 Beth Rubenstein, MS, PT, GCFP
Multiple Sclerosis: Take Charge of Your Mobility and Function - Become an Expert on You
Tuesday, May 1, 2018 at 8 pm. EST
The Feldenkrais Method® is a perfect fit for people with Multiple Sclerosis (MS). In this interview, you will learn how to explore ways to take control of your spasticity, weakness, fatigue, sensitivity to heat, balance, coordination, and stress. By paying attention to how you move and how you approach movement, you will find that you can make small adjustments that will lead to big changes. By using basic principles of this method the brain and whole self-adjusts to demands that we live with on a daily basis.
This is not a "cookie cutter" approach. There are several kinds of MS and everyone with MS is different. Inherently, the Feldenkrais® approach is one of understanding and even seeking out those differences. You will tune in to your "inner advisor," learning to constantly assess yourself. You will gain strategies for change and you will learn to live your life with greater ease and vitality.
Get Access to All 24 Interviews
I have been in the business of health and vitality for 40 years. MS has been part of my life since the age of 4 when I lost my father to the disease. His brother, my uncle, died 20 years earlier from MS. At 30, my older sister was diagnosed with primary progressive MS and passed away 16 years later. After my father's death my mother involved her children in the MS Society. Her motto was, "know your enemy." I continue to be involved in many ways.
Physical therapy was a natural career choice for me – a chance to connect with and help people living with MS live their best lives. In my studies I acquired sound academic training is anatomy, physiology and neurology along specific knowledge about various conditions including as MS.
In 1977, I started the first MS class at UCLA. We met weekly. We had races across the gym floor in every position we could think of, working on strength, endurance, mobility, companionship, and our senses of humor. I joined the MS Medical Advisory Team and continued to help people with MS in their daily lives. Though my work as a physical therapist expanded to include working with many disabilities, including orthopedic concerns, I continue to stay closely connected to the National MS Society.
I am involved in many ways. My daughters and I have participated in the MS walk for the last 21 years. This year my new grandson will be part of Team Rubenstein.
A decade into my physical therapy career I still had questions though the traditional medical model had no answers. Seeking answers and information, I became a Feldenkrais Teacher. And later an Assistant Trainer. I applied my new learning to my work with the MS community. I started teaching weekly Awareness Through Movement®classes for the Greater Los Angeles Chapter of the MS Society. I also taught workshops and classes for caregivers and clients with MS on living life fully with MS, exploring abilities rather than disabilities. ."
The Feldenkrais Method builds on what a person can do, rather than what is wrong. Today, I teach class and workshops to help people learn how to live their lives, in spite of pain or disability. My 40 years as a movement professional including 28 years living and practicing the work of Moshe Feldenkrais has led me to create a way for people to explore how they move, feel, think, and act primarily through movement.
On a personal level, Feldenkrais work has helped my reignite that passion for life, and that is what I love to share with those I serve.