---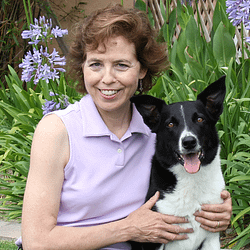 Mary Debono, GCFP
Friday, May 4, 2018 at 8 pm. EST
Would you like to learn how to help yourself and your dog feel better and move more freely–at any age?
Whether you're a baby boomer with an aging dog or a millennial with a young pup, Mary Debono can help you and your dog get the most out of life. Mary's unique approach, based on the work of Dr. Moshe Feldenkrais, is designed to enhance not only your dog's health and well-being, but yours as well.
Mary will describe how she has helped dogs overcome the effects of stroke, arthritis, hip dysplasia, torn ligaments, aging, anxiety and stiffness. These dogs – many of whom were considered hopeless cases – demonstrate that improvement is possible at virtually any age or condition.
In Grow Young with Your Dog, you'll discover how to: 
Reduce stress and anxiety
Increase the vitality of older or injured dogs
Facilitate healing after injury, surgery or illness
Cultivate a deep bond between you and your pet
Lessen the effects of arthritis, hip dysplasia and aging
Enhance athletic performance and minimize the risk of injury
In this interview, Mary will explain how this unique approach has helped hundreds of dogs and their people enjoy a greater quality of life.
Mary will guide you through a simple, yet powerful hands-on exercise that you can do with your dog or cat. This exercise has helped improve the well-being of numerous humans and their animals, while deepening the bond between them.
Upon sharing this exercise with your pet, you may discover that your body moves more freely, your mind is calmer and clearer, and your spirit more joyful.
If you'd like to enrich your human-canine connection, I do hope you'll join us for Grow Young with Your Dog!
Get Access to All 24 Interviews
Mary Debono is an internationally known expert on dogs, horses, and other companion animals. She has been a Guild Certified Feldenkrais Practitioner® for more than 20 years and has a successful practice for humans and animals in Encinitas, California. She also travels extensively throughout the US and Canada to teach people how they−and their animal companions—can experience health, vitality and joy at any age.
Mary is the author of the Amazon #1 best seller, Grow Young with Your Dog, which won the 2015 San Diego Book Award for Best Health book and a silver medal in the Living Now national book awards.
Like many practitioners, Mary first studied the Feldenkrais Method® to improve her own situation. Thirty years ago, she was a computer information specialist with chronic hip, back and neck pain, along with carpal tunnel syndrome that didn't improve with surgery or physical therapy. After living with pain for several years, Mary began to study the Feldenkrais Method®. Her pain vanished, and she felt younger and more hopeful than she had in years!
Grateful for her own transformation, Mary decided to devote her life to helping animals and their people overcome injuries, arthritis, stroke, anxiety and other challenges. She's been doing that for more than 25 years. And she's never been happier!
To make it easier for people to enhance their animals' health, athletic performance and well-being themselves, Mary created her signature approach, Debono Moves.
Mary and her husband, Gary Waskowsky (also a Feldenkrais Practitioner), live in Poway, California. They stay young by playing with their energetic Rat Terrier, Ruby; spirited Quarter Horse, Breeze; and laid-back cat, Higgins.
Mary's book, videos, workshops and online sessions make it easy for dog, cat and horse lovers all over the world to benefit from her holistic approach.
Video training special offer: http://www.debonomoves.com/video.
Mary's website is: https://www.debonomoves.com/